Front Page
★ NEWS HEADLINES ★
---
Rio Vista Earns D- Grade for Internet Service Says Well-Known Internet consultant
 11/11/2015
This is a powerful and enlightening statement from a well-known internet consultant about the state of internet access in our fair city. Hopefully I can shed some light on some of reasons and offer some suggestions in which your participation might just make a difference.
My wife and I are looking forward to moving to Rio Vista by the end of the year. In our previous Bay Area city, we relied heavily on a robust broadband service for our daily dose of the connected world. I am rather surprised and disappointed how poor the offerings are in our new rural community as we approach 2016.
I did a lot of research about internet offerings in Trilogy where our new home is located but my research also encompassed the entire city. Based upon this research and expert independent reviews, our city has the slowest internet speeds in Solano County.
In fact, one of the foremost internet consulting companies in the US, Tellusventure.com web site awarded the city of Rio Vista a grade of D- for internet capabilities, lowest in the County. I quote a portion of their "East Bay Broadband Report Card", dated January 2014; Consequently, Rio Vista (D-) and Dixon (D) rank worst and fifth worst respectively amongst incorporated cities in the region."
Not good news for our residents, families and businesses and certainly an inadequate platform for attracting new businesses and new tax dollars to our city.
Let's face the facts; access to speedy internet is no longer optional. Certainly not the case for every individual in our community but trends indicate the vast majority expect rewarding and reasonable broadband internet access as much as they expect the lights to work when they flip the switch. In fact a recent article indicated the more-technology-savvy farmers in the US are begging for broadband access in their rural communities to utilize the many new Wi-Fi gadgets available to maximize growing conditions, improve yields, reduce water usage and increase profits, etc.
Rural communities are far behind the curve mostly due to lack of upgraded, local fiber-based broadband infrastructure. The few big players, Comcast and Frontier who serve Rio Vista received mostly poor marks for their dismal internet service in a recent informal poll on the popular Nextdoor.com web site for Rio Vista. The resounding message from this small sample of residents is the "Big Two" are paying more attention to their profit margins than they are in investing in rural communities needing new infrastructure, despite many federal government handouts to populate faster internet in rural communities.
They both received many millions in funding from the federal government and various other agencies specifically earmarked to populate true broadband in rural communities, like Rio Vista. Did either of our bigger providers spend one nickel of these funds in Rio Vista??? Ask District 11 Assemblyman Jim Frazier if he can be of help in trying to find some of this money to be used in our city. Contact him at http://bit.ly/FrazierContact and ask for support to help Rio Vista with our substandard internet services.
No argument, upgraded broadband infrastructure requires large expenditures from the provider but would result in new customers and long-term growth and satisfied customers. Buyers might then make long term commitments to their favorite provider and even opt into new offerings such as VOIP telephone, security, whole home automation, etc. Usually a win-win but not the case in our fair city.
Maybe even more distressing are the alleged predatory and questionable business practices by the "Big Two".
Comcast has been selling pricey high-speed upgrades all over Rio Vista. I guess even they don't know it is technically impossible for any of these add-on services (such as Blast! and other speed packages) to improve our internet speeds. None of these add-ons work with the current antiquated microwave transmission method Comcast uses to deliver services to us, all the way from Fairfield. We want high-speed broadband fiber in our entire city!
If you have any of these add-on speed services with Comcast you are wasting your money. Call Comcast and complain. Many residents are reporting they are receiving apologies and refunds.
In support of this effort please join the Rio Vista community on Nextdoor.com (which is a fabulous online water cooler of sorts) where you can check out the letter writing campaigns which need your support and possibly save yourself some money at the same time.
If you are a Comcast customer, pick up the phone tell them you are disappointed with their service and are thinking of switching to another provider unless they get serious about investing in high-speed broadband in our community. Not in 2020 but now! Ask for a supervisor and then ask to communicate with local GM's, VP's even if by email. You are not going to get much traction with the 1 level customer service person, so be persistent.
Allegedly, Frontier on the other hand has demonstrated even slimier business practices. They have been serving our community for many years and have always invested in their own infrastructure which follows the accepted business norm among providers all over the US for many, many years.
In fact, in the past year or so they began to install fiber broadband (on their own nickel), which is currently the fastest available infrastructure in portions of downtown and Trilogy. As a result some residents are enjoying meter-busting internet speeds but… Just when residents were spreading around a little love for Frontier they turn around and basically blind side Trilogy by announcing they would no longer continue to provide landline telephone nor fiber broadband infrastructure in the newer phases unless Shea Homes picked up the bill. This is quite a radical shift by Frontier after pocketing millions in profits from thousands of Rio Vistans over many years. Unfortunately this means no landline services and no direct 911 services in Trilogy, which is rather reckless in a 55+ community. But alas the new girl in town has caught Frontier's eye.
Appearing to be related to their recent strong-armed tactics with Shea Homes, Frontier has been in front of the California Public Utilities Commission (CPUC) asking to acquire Verizon's landline and fiber business in the entire state of California (of which none would benefit our area). They are floating $6.6 billion in junk bonds to fund the acquisition but now refuse to invest in a few hundred new homes in Trilogy and their predatory business practice will likely impact all of Rio Vista. No high-speed fiber for you!
It's not all doom and gloom, you do have a few other choices other than the mega-providers. One mid-sized, spunky provider who scored high marks in our informal poll; Internet Planet, aka as Internet Free Planet successfully offers internet services to thousands of customers in Solano County and is making a push into Trilogy as of late.
In the bigger picture, the Federal Communications Commission (FCC) recently established new, more robust standards for nationwide internet speeds. Their new standard is a minimum of 25Mbps download speed (think 25 miles per hour). I am paraphrasing here, but basically the FCC is implying if your local internet providers are not providing at least this download speed then individuals, businesses schools and families are being severely short-changed. Think about this for a while. >Are you happy with this picture?
Especially since the small, informal poll mentioned above indicates most of our residents are receiving internet speeds below 10 Mbps (think 10 miles per hour), often times less than 6 Mbps (think 6 miles per hour). "How slow is that?" A snail is faster. Does this work for you??
So, what can be done despite all of these moving parts?
Complain, complain and complain! Join Nextdoor.com for Rio Vista. Many of your city council members consult this site regularly. Mayor Richardson even contributes on a regular basis. Make some noise on Nextdoor and get involved in the letter writing campaigns to both Comcast and Frontier and state your displeasure.
Vote with your wallet. Talk to other providers and see what they can offer. Call your cable or internet provider and ask for the "retention" department. Tell them you are fed up and are looking at offers from competitive suppliers and what are they willing to do to retain your business? This is done by millions of people every day all over the US.
Question your city council. They have had communications with Comcast and Frontier in the past. Suggest it is time for a more serious intervention. Ask them what role they can take to make things better for the entire community? How can they help encourage Comcast and Frontier to come to the bargaining table and invest in Rio Vista? What other out-of-the-box remedies can the city offer? Remind them of that D- grade they received.
Google fiber is the savior in many cities and is gaining a lot of traction provided the municipality reduces the majority of the typical red tape and other barriers in the review, adoption, permits, construction processes and all of that. Google is interested in hearing from municipalities who commit to grease the skids and minimize typical red tape delays. Can the Rio Vista city council put this together? Here is the big one and probably the loftiest; Suggest to your city council they should seriously consider partnering with a mid-sized provider and develop their own city-wide public/private gigabit infrastructure and run away from all of these predatory vendors! It is happening all over the US at a rapid pace. Rural and even mid-sized cities are doing it because they are fed up with being controlled by the big providers. There may even be a profit potential for the city if it is lawful.
There are many examples on Tellusventure.com web site including the highly-successful approach taken by the City of Santa Cruz who voted to build their own gigabit infrastructure to every home and business. Within six weeks Comcast visited the city council, hat-in-hand and agreed to build out a city-wide, high-speed fiber infrastructure on their nickel based upon the perceived COMPETITION. Google "Santa Cruz muni fiber threat forces Comcast upgrade" for the complete story.
It could happen in Rio Vista if the right parties could band together and demonstrate the interest, commitment and where-with-all to get it done. The city council needs to create a new competitive landscape. The state government needs to help locate some of the millions earmarked for rural broadband internet and encourage the big providers to spend it here. Yes, it could happen here!
Dave D'Arche is a freelance writer and technology professional soon to live in Rio Vista, CA. He can be reached at ddarche@comcast.net
---
Rio Vista Resident Ernie Yoshino Receives Award from National American Institute of Architects
10/28/2015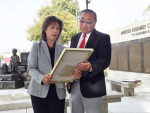 Local Architect Ernie Yoshino was presented with a Presidential Citation from the National American Institute of Architects (AIA) by President Elizabeth Chu Richter, FAIA. She flew out from Washington DC to award Mr. Yoshino with this citation for his work on the Merced Assembly Center Memorial Monument l ocated at the Merced Fairgrounds. 
>> READ MORE
---
RVFD Hot Shots Collecting Items for Fire Victims
10/28/2015
The Rio Vista Fire Department's Hot Shots are collecting items for some of the fire victims from the recent Calaveras County fires. The Hot Shots will be making a trip to deliver much needed items to the victims. If you would like to contribute any of the following, please drop it off at the Rio Vista Fire Department at 350 Main Street, by Friday November 13th.  >> READ MORE
---
Friendship Has No Age Limit: RioVision Holiday Home Tour
11/4/2015
Many people say that friendship has no age limit. If you happened to have witnessed this between Raye Hansen and Donna Hamilton, you would have agreed. Raye and Donna's age difference was 15 years part. But to them, there was no difference. Unfortunately, after 10 years of being best friends Donna suddenly passed away in September on a trip to Germany with her husband Dave.  >> READ MORE
---
Veterans Day Very Special to Rio Vista Couple
11/4/2015
Veterans Day has special significance for Sally and Stan Brenner, each having more than 30 years of active and reserve component military service.  They met at a formal function at Mare Island 48 years ago, and were married the following year in a military wedding at the Presidio of San Francisco, exiting through an arch of sabers.  >> READ MORE
---
Bass Parade Celebrated our "Home Town Heros" Return to Rio Vista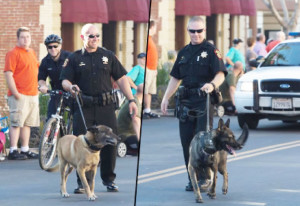 The annual Rio Vista Bass Festival Parade was honored to host 16 local and surrounding Federal, Police & Fire Agencies in the Saturday October 10th parade. Parade Chairman, Stacia Olson said "We are really grateful for the help of Retired Rio Vista Police Chief Barry Wadie to help us bring "Home Town Heros" that are now serving in agencies outside of Rio Vista, back home, for the Parade."  
>> READ MORE
---
There's a New (and Free!) Yoga Class in Rio Vista
By Jennifer Titus Stewart
10/21/2015
Victoria Jeune is new in town and she teaches yoga. If you enjoy yoga, you probably know that there are not many options in our little town. If you are not familiar with yoga but think you may want to try it, you're in luck! Your options just became a little broader. Victoria describes her mind/body yoga classes as traditional and gentle; it's mellow enough for beginners while also appealing to the more experienced yogi.  >> READ MORE
---
Rio Vista Blessing of the Animals on Sunday October 4
September 30, 2015
In honor of the blessed saint Francis of Assisi, Saint Joseph Catholic Church and Saint Brigid of Kildare Episcopal Church will hold a joint Blessing of the Animals at the corner of South 2nd Street and California Street (in the grassy area on the corner) at 1:00 pm on Sunday, October 4, 2015. Bring your companion animals, pets, reptiles, farm animals. The Reverend Lucretia Jevne and Deacon Bill Bolduc will bless them all!
>> READ MORE
---