Rio Vista Beacon News
★ NEWS HEADLINES ★
---
Church Reaches Out
April 23, 2015
If you haven't been to Re:church in Rio Vista before, you may not realize the local and global reach it has today. Recently, Re:church partnered with a church in Puerto Rico to continue starting new churches, serving the poor, and partnering with local organizations to care for families with kids who are in need. Pastor of Re:church, Sean O'Kelly, went to Puerto Rico to help assess the needs and to organize teams who will raise money to go and serve this summer.
Finding needs and meeting them around the globe is part of the vision for Re:church; and they've partnered with people and organizations in over 10 countries across 5 continents. The global reach isn't the only thing Re:church cares about, as they have recently started a community dinner every Tuesday night in Isleton. From 6:00-7:00PM each week at the community center in Isleton you'll find a team from Re:church hosting a spaghetti dinner with fresh baked desserts. It's open to anyone, every single week.
"We believe in helping those around the world that are in desperate need of resources we take for granted," says Re:church's Pastor Sean. "But we're a church that also believes in serving our community and the people who live here too." Whether it's the free family movie night they host on the 4th Friday every month, their Parents Night Out where free dinner and child care is offered for parents wanting a break, or the newly started BBQ and Bounce Houses on the 5th Sunday each month, Re:church believes in reaching out and serving everyone
---
Second Annual Rio Vista Certified Farmers' Market Grand Opening
The second annual Rio Vista Certified Farmers' Market will celebrate its' Grand Opening on April 25th with live music provided by Indie Folk Artist extraordinaire, Aprylle Gilbert. In addition to last years' vendors, we have added the following new vendors/products:
Cipponeri Farms featuring a vast array of raw & flavored almonds and walnuts, as well as stone fruit and homemade jams and jellies (Turlock), Achadina Cheese featuring goat cheeses and capricious cheeses (Petaluma), a new Kettlecorn vendor, Krispy Pop (Novato) and in addition to Cobblestone Bakery (Riverbank), Ma Petite Cherie French Bakery, featuring the talented French-trained pastry chef Christina Henrique's authentic French pastries and tantalizing sweets (Discovery Bay).
Of course we want to welcome back the following returning vendors: Bay Fresh Producers (Salinas), Robledo Farms (Fairfield), Lujan Farms (Hughson), Resendiz (Hughson), Hamlow Farms (Denair), Nunez Organic Vegetable Farm (Watsonville), Olio Bello d'Olivo (Byron), Delta EcoFarm (Walnut Grove) and Hummus Heaven (San Leandro) .
The Rio Vista Certified Farmers' Market will be open every Saturday, on Main Street and 2nd, April 25th through November 21st from 9 a.m. – 1 p.m. rain or shine.
---
Rio Vista to Crown King of the Kitchen on April 25
April 15th, 2015
On April 25 Rio Vista will crown a new king at the First Annual King of the Kitchen competition. Over 25 aspiring chefs have already signed on to compete at the event which will be held at Veterans Hall (610 Saint Francis Street) from 4-7 p.m.
Attendees at the event will receive a taste each contestant's delicious entry and then vote for their favorite who will be crowned King of the Kitchen. "Taster Tickets" for the event cost $20 and the evening will include music and wine tasting as well as the delicious tasting meal (and even an occasional second helping).
The King of the Kitchen competition is sponsored by Rio Vista CARE. Proceeds will underwrite the costs of use of the Rio Vista CARE facility for qualified local organizations that need a place to meet. Many groups in our small town cannot afford to pay a facility fee and there are few options available.
You can enjoy a delicious dinner, vote for your favorite chef, have a great time and give back to your community. To get your tickets ($20 per person), call Rio Vista CARE (707) 374-5243, or come to the CARE office at 628 Montezuma Street (corner of 7th Street and Montezuma). Only 100 tickets will be sold, so call for your tickets today.
---
70 Year Old Tree Down; Log Lost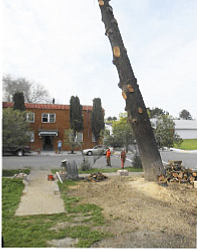 B-O-O-M! The trunk of the 70 year old cedar tree at the corner of South Second and California in Rio Vista hit the ground. Nobody in the small crowd that had gathered yelled
T-I-M-B-E-R. The tree went down exactly where David Perkins and Chris Mazzera, who was trained by Perkins, said it would.
The owner of the property, Beverly Bellows, said she was sorry to see the old cedar tree cut down, but a large branch had broken earlier in the year during a wind or rain storm. She hadn't even noticed the large branch laying on three or four other branches until someone pointed it out. Then she was alarmed that other branches or the entire tree, which was topped, might fall on somebody else's house or on the historic white Victorian. The "lion's tail" trim didn't help, since all the weight was on the end of each branch.
Initially, Autoro Perez Sanchez sat in a harness at the top of the tree all morning and early afternoon cutting branch by branch. The upper branches were tied to a cable so the Groundsman, Julian Cardenas, and Manager, Chris Mazzera, could control their descent to the ground, where they were cut up for fire wood or grinding.
The owner allowed residents to take the fire wood. However, someone took one log that was considerably longer than the fire wood (three or four feet) late last Thursday or early Friday morning. She was going to have that log designed into a bench and donate it for one of the new parklets in downtown Rio Vista. If you took that log, please return it and you can take more of the wood when the tree trunk is milled.
The trunk of the tree will be milled into lumber on April 1 on site. The lumber after it dries will be used as siding, porch floors and fence pickets. The roots will be ground up and used as mulch. The branches that were ground up and hauled off by Signature Tree Cutters will also be turned into mulch. Nothing of the old tree will go to waste. New trees will be planted and the cycle will start all over again.
---
It's official, the World Loves Janey!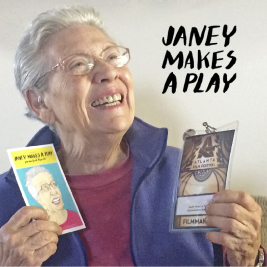 JANEY MAKES A PLAY, the documentary by director and filmmaker Jared Callahan featuring Janey Callahan Chin, the 90 year old playwright and director from Rio Vista, had its World Premiere at the Atlanta Film Festival last weekend and was described by one audience member as "incredible – inspiring, poignant, funny, and just so genuine". The debut was nearly sold out and Jared posted "We sold more tickets in that theater than any movie all week! What a day." Preparation has begun for Rio Vista screenings on May 30th.
---
New Dentist in Rio Vista
Dr. Hadi Soltani, DDS is very happy to be practicing dentistry in Rio Vista. Soltani has taken over the practice from Dr. Mel Pearson, who has retired from his practice of Dentistry of the Delta. 
<READ MORE>
---
April Fool's
Due to the fact that the Beacon, publishes on April 1st. We thought you would enjoy some of the great April Fool's Day headlines over the years, that made the newspaper or radio.   <READ MORE>

---
An In-Depth Look at a Rio Vistan
March 25, 2015
By Linda Orrante
Whoever Heard of Someone Named Herky?
Herky Ostlund's real name, Hermelle, is a French name that her uncle brought back from France. According to the internet, Hermelle is related to Hermes, a messenger of the gods in Greek mythology. The name Hermelle means harmony, compassion, service, and nurturing. If you know Herky Ostlund, you are not the least bit surprised at how well her given name fits.  <READ MORE>
---
Delta Community Meeting Regarding Crime
With County Supervisor Don Nottoli
Delta Community Meeting regarding crime With County Supervisor Don Nottoli Event organizer, Andy Krotik announced due to recent spikes in crime on the Delta, a Community meeting will be held on March 25th, at 6:30 PM at Oxbow Marina Clubhouse Said Andy Krotik, "My property has been robbed, several of my neighbors, and many others in the Terminous Road, and Delta loop area." 
<READ MORE>
---
Third Annual McCormack Ranch Sheepdog Trials
The third McCormack Sheep & Grain Sheepdog Trials will take place at the McCormack Ranch outside of Rio Vista on Friday, March 27; Saturday, March 28; and Sunday March 29. Tickets are required to attend the event. Attendance will be limited to 200 people per day.  <READ MORE>
---
Soroptomist Awards
National Organization for Women's Harriet Tubman Award, along with countless other awards in her lifetime. <READ MORE>
---
John Lamb Top Dog in Life
John and Faye Lamb have been residents of Trilogy for over five years. Both of them are very active physically, even though they suffer from some major league health issues. Faye's issue is that she has had MS for over 27 years and John has nerve damage and pain from a congenital defect which necessitates him to soak in a bath tub for 5 hours a day.  <READ MORE>
---
Mobile Medical Van Comes to Rio Vista Every Tuesday
March 4, 2015
By Linda Jensen
Solano County Family Health Services brings their Mobile Medical Van at 628 Montezuma Street, Tuesdays from 9am to 2:30pm. The big green van will be parked in the Rio Vista CARE parking lot and walk-in patients are welcome.    <READ MORE>
---
Three Generations Living in Rio Vista and Loving it
March 4, 2015
Mike Wertin and his wife Judy are what you would call the beginning of three generations living in Rio Vista. They are what you call the "new generations," where the Grandparents move into town to a wonderful retirement community because their children and grandchildren already live here.   <READ MORE>
---