Front Page
★ NEWS HEADLINES ★
---
Rio Vista Watering Guidelines Ordinance From Last Year Still in Effect
4/13/2106
Rio Vista City Hall has been inundated with phone calls asking if the water ordinance is still in effect. The answer is YES. Even though California has had much needed rain this season. We are making up for the dry years in the past and still need to conserve!!!
CITY OF RIO VISTA – WATER CONSERVATION URGENCY ORDINANCE
SPRING AND SUMMER REMINDER
Adopted by the Rio Vista City Council on JULY 21, 2015
PLEASE KEEP FOR FUTURE REFERENCE
Section 3. Section 17.68.025 Water and Resource Conservation is hereby amended to read as follows:
A.  The penalties for the waste of water and the procedures to impose such penalties are specified in Chapter 13.04.190. Acts constituting a waste of water are as follows:
1.Failure to comply with the following schedule when watering lawns, plants, or garden, or using outdoor water for other irrigation purposes.
a.No lawn/garden watering, or other outdoor water use, will be allowed between nine o'clock (9:00 A.M.) and seven o'clock (7:00 P.M.) on any day. Allowable watering hours are only between 7 p.m. – 9 a.m. on your specified watering days.
b.Subject to the limitations set forth in Section 17.68.025(A)(1)(a), users with odd-numbered street addresses shall use outdoor water only on Sundays and Wednesdays.
c. Subject to the limitations set forth in Section 17.68.025(A)(1)(a), users with even-numbered street addresses shall use outdoor water only· on Saturdays and Tuesdays.
d. The Director of Public Works or his or her designee may waive the requirements of Sections 17.68.025(A)(1)(a)-(c) if such waiver is necessary for health or safety reasons, as evidenced by the water user, and to the Director's satisfaction. In no case shall any user water more than two (2) days a week.
2. Watering lawns or gardens such that excess water leaves the property or area being watered.
3. Watering outdoor landscaping while raining, or within forty-eight (48) hours after measurable rainfall.
4.Washing vehicles, equipment or boats on days that do not coincide with irrigation times and days for the address where the vehicle is being washed, or using an open hose which is not equipped with a shut-off nozzle. 5.Hosing down driveways, streets, parking lots, and building exteriors without the consent of the Director of Public Works or his or her designee except for valid health or safety reasons.
6. Having leaky faucets or plumbing fixtures on the premises.
7.Having improper connections to the City water system or on site faucets or hose bibs without a properly installed and maintained reduced pressure backflow device to prevent contamination of the potable water supply (i.e.: a RV may not connect to a residential faucet without a certified reduced pressure backflow device that is properly installed, maintained and annually inspected).
8.Operating evaporated coolers which are not equipped with a re-circulating pump.
9.The use of potable water in a fountain or other decorative water feature, except where the water is part of a re-circulating system.
10.The irrigation with potable water of ornamental turf on public street medians.
11.The irrigation with potable water of landscapes outside of newly constructed homes and buildings in a manner inconsistent with regulations or other requirements established by the California Building Standards Commission and the Department of Housing and Community Development.
12. The washing of a car, boat, trailer, or other mobile equipment except at a commercial car wash, using only reclaimed water, or by using a bucket or a water-hose equipped with an automatic shutoff nozzle.
---
Rio Vista Community Center Draws Another Enthusiastic Audience
4/13/2016
The Rio Vista Community Center hosted another well-attended community meeting on Monday, April 4, 2016 at D. H. White School. About 100 residents and interested parties came to hear the latest updates resulting from the large gathering on February 25, 2016. On that date, over 125 folks showed up, divided themselves into eight discussion groups, and came up with over 325 suggestions for the community center.
The Community Center provided two possible groupings of the suggestions. One grouping divided the suggestions into "centers": a performing arts center; a recreation center; a learning center; a computer learning center; a kitchen/catering center; and a medical center. The second grouping divided the suggestions similarly: outdoor space; performing arts; medical and social services; kitchen and food; recreation and athletics; and infrastructure requirements. More than 50 suggestions were made regarding Wi-Fi, air conditioning, parking, outside lighting, etc. which applies across any service provided in a "center." At the 2/25/16 meeting, youth and young adults were asked to join a single group. A special analysis was presented on the comments provided by that group. Their responses fell into three broad categories. They want a place and activities to learn, to play, and to work. They want computer classes, sex education classes, cooking classes, etc. They want to play basketball, baseball, ping pong, etc. And they want job seminars and job fairs. They want enrichment, service and fellowship. They audience was asked if the approach described seemed correct. There was enthusiastic support for the groupings and the analysis.
At the 2/25/16 meeting, several comments were made regarding existing facilities perhaps being under-utilized and questioning the need for a new community center. These comments were taken seriously. The conclusion of the Community Center is that this is not an either-or situation. We should make maximum use of existing facilities while demonstrating the desire for services that could be provided in a new and consolidated facility. To that end, the Community Center proposed a parallel process. While progress continues on defining and designing a community center, the Community Center will also reach out to all existing facilities and create a "clearing house" for their use. Once again the audience was asked if this seemed the correct approach and once again there was enthusiastic support.
The next steps in defining and designing a community center were presented: work with Cosumnes College Architecture program, Sonoma State and others to determine space needs and begin design; convert narrative comments into square footage requirements; cost out those space requirements; create a public-private partnership with the City of Rio Vista; begin fund-raising activities. Other additional steps will be added as progress is made.
As these steps move forward, the Community Center will be making regular reports in the newspaper; will be forming working groups to explore needs requirements, design specifications, information gathering, fund raising and other activities. It will be seeking volunteers in each and all of these activities.
Finally, while a physical community center is being planned, the Community Center will be forming a virtual community center. The web page for the Community Center (www.riovistacommunitycenter.org) will be enhanced to provide a link to each existing program or facility that currently provides services or activities that a physical community center will provide. The audience was very enthusiastic about this plan and offered several suggestions to enhance a virtual center. To the extent possible, these suggestions will be incorporated into the virtual community center.
There will be another public meeting later this spring when the Community Center hopes to present several renderings of what a community center might look like from the outside as well as floor plans for the interior. Look in the newspaper for further information.
Meanwhile, this effort will require many volunteers with varied skills. Get involved! Volunteer! Sign up at www.riovistacommunitycenter.org!
---
First Congregational Church of Rio Vista Welcomed New Interim Pastor
3/16/2016
On February 1, 2016, the 147- year- old, historic First Congregational Church of Rio Vista welcomed its' new interim pastor, Dr. Frank D. Ward, and his wife Lynn.
"Experiencing the Presence of God" will be the theme of his sermons for the following months.
Adult Sunday School with Bible Study continues in the Fireside Room, 9:30 – 10:30AM with the assurance that when "Two or more are gathered in My Name I am with you." There is plenty of stretching and growing in the Lord through inspiring discussion, prayer and learning through Jesus Christ.
Dr. Ward's calling began at age 17 in San Fernando Valley, CA, with his future wife Lynn at his side. We celebrated, appropriately, their 50th Wedding Anniversary this past Valentine's Day at a fellowship breakfast. We have turned the next page in our congregation's journey of NEW LIFE & NEW BEGINNINGS…
Pastor Frank earned a BA in Secondary Education from Baylor University in Waco, Texas in 1973; a Master of Divinity from Golden Gate Baptist Theological Seminary, Mill Valley, CA in 1982 and a Doctor of Ministry from Fuller Theological Seminary in Pasadena, CA in 1992.
He is a veteran, having served in the U.S. Air Force from 1965-1969. He began serving as a pastor to a small, rural community church in central Texas in 1970 and did so all through college. After 43 more years of serving churches in south Texas, southern California, northern California and, most recently, Bakersfield, CA he and his wife retired to Rio Vista (Trilogy) in 2013. God's sovereign and divine providence brought him and his wife to the First Congregational Church of Rio Vista as Interim Pastor effective February 1, 2016.
Pastor Frank's intellect and passion for Biblical truth is reflected in his stated desire to be a seminary professor. However, his calling has kept him in the pulpit. The theme of his sermons – "Experiencing the Presence of God", has captivated those attending the 11:00AM Sunday services. His preaching (directly in front of the altar with Bible in hand) finds him speaking with God's fervor and conviction! God's Word certainly becomes real in a way our congregation has seldom experienced. His selection of older classical gospel hymns, which relate meaningfully to his messages, and accompanied with a gifted pianist, truly bring alive our time of worship!
---
Rio Vista Fire Department Annual Firefighter Appreciation Banquet and Awards Ceremony
3/16/2016
On Saturday, March 5th the Rio Vista Fire Department had its annual Firefighter Appreciation Banquet and Awards Ceremony at Sir Flair's 19th Hole Bar & Grill. This gala event, sponsored by the Rio Vista Fire Hot Shots Volunteer Program, was an evening to reflect on the accomplishments of 2015 and to bestow the Firefighter of the Year Award to a deserving firefighter who was elected by a vote of his peers. This year the Award for Firefighter of 2015 went to Ben Peirce, a reserve firefighter who has contributed greatly to the Rio Vista Fire Department over the last year. Reserve firefighters commit to working three 24 hours shifts per month at a pay rate of only $30 per 24 hour shift. That works out to be a pretty good deal for the city.
Ben has wanted to be a firefighter ever since he was 5 years old. In high school he attended the Regional Occupation Program for Firefighting. He also was an Explorer for Contra Costa County Fire District before coming to the city of Rio Vista as a reserve firefighter. He attended Firefighter 1 Academy at Los Medanos College, became an EMT Basic and is pursuing an Associate of Science degree in fire technology.
The other firefighters had a lot to say about Ben. "Every shift I work with Ben, he comes in with a good attitude and when it comes to any project he is the first to volunteer." "Ben is an advisor with the Explorers and he tries very hard to make all the drills."
"When we were looking for a standby at the Friday and Saturday football games, Ben has done more than his fair share."
"Ben has consistently worked at least one day a week since he joined the fire department."
"He is always eager to train and to make himself a better firefighter."
"He has helped out a lot with the Explorer program … (and) can be counted on for drill nights."
"He consistently shows up early for shift and is not in a rush to leave."
"He is dependable and always willing to participate; I appreciate those qualities more than most skills-based qualifiers.
"He may not know everything but he's a fine example of someone trying to learn his trade."
Fire Chief Alan Hartford stated the city of Rio Vista is proud to have someone of Ben's caliber who is dedicated to serving our citizens.
Other awards that were given that evening were:
The longevity awards:
Zach Habiger – 10 years
Alex Bosworth – 5 years
Ryan Cassity 5 years
Sue McCracken (Volunteer) – 10 years
Fire Chief's Special Awards of Recognition are:
Alex Bosworth – CERT Team Leader
Bill Ladley – Electrical work with regard to Station Security
Brandon Enriquez – AED Program
Chris Bartow – Explorer Leader
David Reddell (Volunteer) – Weed Abatement and Inspections
A presentation was given by Mike Marcucci CalFire Battalion Chief; a third generation Firefighter and 26-year veteran of the fire service.
The evening ended with a toast to Firefighter of the Year and cake for all attendees.
---
Solano CHP Marrow Drive
3/9/2016
The Solano Area CHP office will be holding a Marrow Drive at 3050 Travis Boulevard, Fairfield, 03/15/2016, from 8:00am until 4:00pm.
A statewide drive, "Stand Up for Keith – Team Meter Marrow Drive," is being organized by CHP Headquarters and the CHP Santa Ana Area office to try to find a marrow donor for Officer Meter, an 18-year veteran of the Department. In 2014, Officer Meter was identified as a potential marrow donor for a young girl with marrow cancer. However, during the screening process, he was found to have more in common with the girl than he anticipated. Officer Meter was diagnosed with a form of cancer called myelodysplastic syndrome and now needs a marrow transplant.
On Friday, March 11, the California Highway Patrol (CHP) will initiate a statewide effort to register bone marrow donors. During the kick-off at the CHP Academy, law enforcement and fire personnel from the greater Sacramento and foothills area, will volunteer to see if they are a match for CHP Officer Keith Meter or any other person in need of this lifesaving treatment.
The cure for blood cancer is in the hands of ordinary people. Join our cause. You could be the cure.
Persons within the target age group of 18-44 who cannot make it to the above locations during the Marrow Drive are encouraged to visit the following Web sites to request a test kit (one will be mailed upon request). Additional marrow registry information can be found online at bethematch.org and officersgivehope.org.
---
Mayor's Corner
By Norman Richardson -3/9/2016
I have promised to write about Highway 12 and the bad shape it is in. A few months ago I wrote a Mayor's Corner describing the Highway 12 Gap Closure project from Summerset Drive to Drouin Drive (the Arco Gas Station). That stretch of highway is to be widened with 12 foot travel lanes and 8 foot shoulders. It is also going to have the highway lifted above the gully which is a wetland. I stated that CalTrans is putting this project into their fiscal year 2016 SHOPP (State Highway and Protection Program), and it was going to cost approximately $15 million. The project is in the 2016 SHOPP as a long lead project. Currently it is in the project study phase of that project. However, on the 29th of February I was with the Solano Transportation Authority Board in Sacramento where we discussed our transportation issues with the following Members of the Assembly and Senate: Staff from Assembly Member Susan Bonilla, Senator Lois Wolk, Assembly Member Bill Dodd, Michael Martinez, Deputy Legislative Secretary, Office of Governor Brown, Brian Kelly, Secretary California State Transportation Agency, Manny Leon, Principal Consultant Senate Transportation and Housing Committee, Allison Joe, Deputy Director Strategic Growth Council, and Assembly Member Jim Frazier Chair of the Assembly Transportation Committee along with Janet Dawson, Chief Consultant of that Committee.
Whew that is a lot of officials to sit and talk about Solano County's Transportation needs, but the common theme that we all heard was that there probably will be no transportation funding legislation coming up this year. This legislation needs two thirds support in both the Senate and the Assembly to pass any funding project. Governor Brown's budget proposes transportation funding of approximately $3 billion. Assembly Member Frazier has a transportation bill pending, which will establish a multi-faceted transportation funding package, resulting in an approximately $7 billion annual increase in transportation funding. It has not been submitted yet as he is trying to get enough members votes to ensure its passage.
I know this is a lengthy explanation of Rio Vista's need to have the much needed work on Highway 12 completed, but CalTrans is just barely keeping it alive by continuing to have this projected in the SHOPP schedule. While I was in that meeting I was also told that the initial cost estimation of $15 million had ballooned to $75 million. I nearly had to be resuscitated. However, it was explained that the additional costs included improvements from Summerset Road to the Rio Vista Bridge. It appears that the major cost of that work will be elevating the Highway over the wetland.
The improvement of the Church Road/Highway 12 intersection is not part of the CalTrans plan to close the gap on Highway 12 from Summerset to Drouin. The plan for that intersection includes left turn lanes, right turn lanes and acceleration lanes for turns. The estimated cost of completing that project is $4 Million. The City will need to supply the funding and CalTrans will do the construction. The City could do the improvement to this intersection without waiting five or more years for CalTrans to begin the widening Highway 12. However, by that time, the City will have accumulated only $2.1 million from the building impact fees for the homes in Trilogy. Those funds are slated for improving Church Road from Airport Road up to the end of Trilogy. So a decision must be made. However the City Council has not received all of the information required to make that decision and we will have it on the April 5th agenda for discussion.
A key component of our Transportation System is the Delta Breeze bus system. This bus system is being run by funds from Transportation Development Act, which is a Federal Government Act. Recently an outreach survey of the ridership and potential ridership was done, that was required and paid for by the Federal Government. The most requested item on the survey was an extension of the Dial-A-Ride service. From that survey the Consultant is proposing new service in the middle of the afternoon. I have received a request from a citizen whose father goes to dialysis three days a week in Fairfield, even on days when the Delta Breeze does not run i.e. holidays. He asked why the service was not seven days a week. I can only reply that we are trying to stretch our resources to accommodate as many people as we can but our present resources do not allow seven day a week service. I understand his and many others needs and hopefully we can expand the service in the future.
---
American Pickers to Film in California
2/10/16
Mike Wolfe, Frank Fritz, and their team are excited to return to California! They plan to film episodes of the hit series AMERICAN PICKERS throughout California with filming scheduled for March 2016.
AMERICAN PICKERS is a documentary series that explores the fascinating world of antique 'picking' on History. The hit show follows Mike Wolfe and Frank Fritz, two of the most skilled pickers in the business, as they hunt for America's most valuable antiques–from motorcycles, classic cars and bicycles, to one-of-a-kind vintage memorabilia.
As they hit the back roads from coast to coast, Mike and Frank continue their mission to recycle America by rescuing forgotten relics and giving them a new lease on life, while learning a thing or two about American history along the way.
AMERICAN PICKERS is looking for leads and would love to explore your buried treasure. They are on the hunt for characters with interesting and unique items. Some of what they look for: vintage bicycles, toys, unusual radios, movie memorabilia, advertising, military items, folk art, pre-50's western gear, early firefighting equipment, vintage musical equipment, automotive items, and clothing. They are always excited to find things they've never seen before and learn the story behind it.
If you or someone you know has a large, private collection send us your: name, phone number, location and description of the collection with photos to:  americanpickers@cineflix.com or call 855-old-rust.
The Beacon notes: AMERICAN PICKERS will potentially come to the Delta area if there are enough large collections here.
---
Love is for Those who Care
2/10/2016
Care to make a difference … a difference in the lives of those who are dealing with MS – because they have it or love someone who does.
Two of those people are ladies from Rio Vista: Victoria Muñoz and Shelley Thomas, who both have Multiple Sclerosis (MS). As co-leaders of Team Victorians, they will be participating in the MS Walk in Suisun City on Saturday, April 23rd with a growing team of people who care … and want to raise awareness and support to help find a cure for MS.
Shelley Thomas, and her husband Larry, are long-time residents of Rio Vista. Shelley had her first episode of MS symptoms where she was dizzy and unable to swallow in 2006. It took several months before her neurologists at U.C. Davis gave her the diagnosis of remitting/relapsing MS and put her into a 3-year study of the effects of combining Avonex and Copaxone (which actually lasted seven years.) In 2013, she was taken off the injections of Avonex/Copaxone and changed to a program of once-a-month infusions of Tysabri. She is happy to report she no longer suffers with the two days of flu-like symptoms from her weekly injections.
Victoria Muñoz, "Vickie", moved from Walnut Creek into her new home at Trilogy Rio Vista in June, 2015. Her story with MS started back in 1995 when a ski accident left her with a knee injury and five years of physical therapy before her doctors realized the injury was masking MS symptoms of instability and weakness in her legs. In 2000, she was finally diagnosed with remitting/relapsing MS and placed on Avonex. After more than a year of serious side effects from the drug, she transferred to U.C. San Francisco. In reviewing her MRIs and case history, her neurologist noted her first symptoms in 1971 and changed her diagnosis to Primary Progressive MS. She was taken off all drugs and advised at that time that the drugs available would not help her. At U.C.S.F., Victoria underwent a two-year study of the effects of Rituximab on primary progressive MS from 2004-2005. The results of the study were inconclusive and she was later told that she had only received a placebo during the study.
In December, 2011, she transferred to U.C. Stanford where her neurologist corrected her diagnosis to a mild case of remitting/relapsing MS. She was put on Aubagio and Ampyra to reduce her symptoms. In 2013, she was one of the first "human guinea pigs" in Stanford's clinical trial where she was hospitalized for one week and infused with IGM22. She had no negative side effects and felt enormous improvement but the Study is still undergoing two more phases and will not be completed for several years. However, Victoria is optimistic that this drug could be one step closer to the end of MS (in a "perfect world") In the meantime, she does her best to work out for 30 minutes every day at the Trilogy gym and play pool as often as possible to keep her body in shape and moving.
Vickie had been diagnosed with MS for six years before she discovered the MS Walk at Heather Farm in Walnut Creek and started her first team in 2006. That year there were only eight walkers but her team has grown over the years to 125 in 2014. Although she moved to Rio Vista, her team members in Walnut Creek asked her to come back for the MS Walk at Heather Farm in 2015. For the fifth year in a row, Team Victorians was still the largest team in the Walnut Creek MS Walk with 60 participants.
When she moved to Trilogy, Vickie met Shelley at her new church, Re:Church in Rio Vista. They both volunteer at Re:Church's ministry at the Community Dinner in Isleton on Tuesday nights. They discovered they both have MS and Vickie also participated in Shelley's MS Walk in 2015 which was her second time leading "Team Shelley."  Shelley's first team in 2014 had 29 members participating in the Suisun MS Walk.
On April 23rd, this will be their first team together as Team Victorians at the Waterfront in Suisun City (close to Fairfield off the 80 Freeway and Highway 12 at the intersection of Main and Solano Streets downtown). The Walk features both 5K and one-mile routes so walkers can choose the distance they prefer. Both courses start and end at the same location where the walkers will receive a special keepsake as they cross the finish line.
The Victorians will be walking at Heather Farm in Walnut Creek on Sunday, April 17 and at the Suisun City MS Walk on Saturday, April 23d. So you have a choice to be with them on Sunday, April 17 at the Walnut Creek Walk or Saturday, April 23 in Suisun City … OR BOTH (like Vickie is 🙂
The Victorians anticipate a large turnout of supporters from Rio Vista's Ace Hardware, Lira's, Lucy's Café, Re:Church, Rio Vista High School, Shea Homes, Trilogy Rio Vista and the Solano Christian Academy in Fairfield. This year the Victorians will have a new team shirt to wear: a grey and black baseball shirt with the team's imprint on the back – a crossword that incorporates the names of the various organizations supporting the team. Any walker who would like to wear the team's t-shirt on April 23rd should contact Victoria to place an order before the end of February. Just call her at (925) 330-1838 to order your shirts. To be part of the team at Suisun City, register online at: http://main.nationalmssociety.org/goto/Victorians_Suisun
Even if you don't plan to walk at all, they still want you on their team and hope you'll sign up as one of the "virtual walkers". Either way, be sure to come out to cheer for the walkers as they head out at 9:00 am. The team will be taking its group picture at 8:30 so whether you're walking or cheering, be sure to register online and arrive at the Waterfront in Suisun City in time for the photo!
No matter what level of involvement you choose, be sure to join us and share the love.
Every MS patient has a totally unique story of their disease: its symptoms, length of time between episodes and their duration, as well as the effects MS has had on their families.
In case you're one of the lucky ones who know NOTHING about MS:
Multiple sclerosis is an unpredictable, often disabling, autoimmune disease where the body's T-Cells go "haywire" and stop protecting the body from foreign antibodies and start attacking the central nervous system. As the T-Cells damage the myelin sheath that covers the nerves in the brain and spinal cord, the flow of information within the brain, and between the brain and body is disrupted, leading to symptoms which can include, but are not limited to, chronic fatigue, instability, incontinence, falling, numbness and tingling, temporary blindness, paralysis and sometimes worse. The progress, severity and specific symptoms of MS in any one person can't be predicted.
---
Auspicious start for the Region
By Douglas Hsia
2/3/2016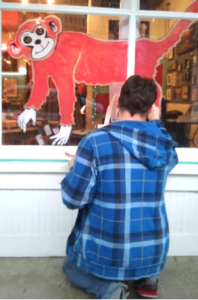 In view of all the new happenings in the region, Locke is going to add to the momentum by hosting Chinese New Year celebration this February 13, 14, 15, the long weekend that includes President's Day. Games and contests will be held for visitors to participate. According to the Honorary Chairman of the organization committee, Stuart Walthall, we have designed 4 groups of fun and games.
Chinese New Year Decoration at participating shops and residence. Since there are many artists and multi culture residents in our community, we can't wait to see a whole new creativity of Chinese New Year decoration concept. Visitors will be given guidance to walk through participants' shops and residence.
Game of matching 2 line poem (couplets) in both Chinese and English, so all visitors can participate and get to achieve understanding the culture of how Chinese integrate literacy with auspicious concept.
All cultures have their unique dishes for their festivals. Chinese definitely are not left out. There will be plenty of traditional Chinese dishes during their new year, there will be enjoyable demonstration of this genre.
Reenactment gambling house, many people may be aware that gambling house was not just for gambling. It was a place for Chinese to come and socialize, another form of gathering around the watering hole.
To the Chinese, new year always symbolizes a new chapter of hope. That is why everything is auspicious oriented, what happens during the first 15 days of the new year, the rest of the year will follow. For everyone to know, the first day of the new year is the day of new moon, the official finishing line of the new year festival is the 15th day of the lunar calendar which is always the full moon. Not by design, Locke is always considered the middle of the Delta. 16 miles north of Rio Vista by Highway 160 and 15.5 miles south of Clarksburg also by Highway 160.
---
Solano County Fair Association Presents 14th Annual Youth Ag Day
Volunteers, donations sought to bring this unique experience to local third-graders
1/27/2016
Solano County, CA – Thousands of excited third-graders are expected to descend on the Solano County Fairgrounds on Tuesday, March 15 for the 14th annual Youth Ag Day.
The Solano County Fair Association hosts this free interactive hands-on event as part of its ongoing efforts to educate Solano County's youth about the county's rich agricultural heritage and the crucial role agriculture plays in our daily lives.
"Youth Ag Day allows us to engage these kids in a fun and educational atmosphere so they have a better connection with our local agriculture and where their food comes from," said Solano County Fairgrounds General Manager, Stephen Pierce.
The 14th annual Youth Ag Day on Tuesday, March 15 from 9 a.m. to 1 p.m. is expected to bring a record number of more than 3,000 third-grade students from across Solano County, along with their teachers and chaperones, to the Fairgrounds for this one-of-a-kind educational field trip. The fun and exciting format allows students to gain first-hand experiences through a diverse range of agricultural activities and exhibits.
"Youth Ag Day is truly a collaborative community effort of presenters, volunteers, sponsors and donors," Pierce said. "We're very fortunate to live in a place where people are so generous with their time, money and expertise and have an interest in sharing it for the enrichment of our students."
Youth Ag Day is presented by the Solano County Fair Association in conjunction with the Solano County Department of Agriculture and Solano County 4-H and Future Farmers of America (FFA), along with many other generous supporters.
The popularity of this event has continued to grow each year thanks to the generous financial support of local businesses and individuals. Many third-grade classes would not be able to attend without the financial assistance from donors to cover the increasing cost of transportation.
Youth Ag Day is seeking sponsors of any level to help allow this priceless opportunity to continue and grow for the third-graders in our county. Bus sponsorships in the amount of $500 are especially important to the event's success in order to serve the transportation needs of classrooms from throughout the county.
Volunteer opportunities exist to greet arriving classes, assist at registration, direct classroom groups through the learning stations, coordinate group flow within the exhibit buildings, and assist the presenting organizations. Volunteers are integral to the success of Youth Ag Day and are encouraged to sign up early to be a part of this rewarding event.
School registration, presenter, sponsor and volunteer information are all available on the Youth Ag Day page of the Fair's web site SCFair.com. For additional information, email AgDay@SCFair.org or call 707-551-2002.
---
Greg Mitchell is the Rvbridgeman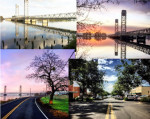 Some of you might know him because he has lived in Rio Vista most of his life. Others know him by seeing him walking all over town. But most of you know him by the beautiful photos that he has taken of the Rio Vista Bridge (Helen Madere Memorial Bridge), Rio Vista and the Delta. His name is Greg Mitchell (AKA) Rvbridgeman. For those of you, that happen to be lucky enough to have seen his work on social media, mostly Facebook. You know that each and every one of his photos brings a smile to your face. But what is behind the man and his bridge?
Mitchell set out walking every day for health reasons back in 2010. This is about the time, when he started taking photographs of the bridge and began observing the wild beauty of it. To date he has taken about 6,000 photos. All at different times of the daylight. He gets obsessed trying to find a better picture every time he visits the bridge. When Mitchell started walking he was averaging about, 3200 miles a year for a few years. But now has slowed down a bit, mostly walking the bridge, sometimes twice a day. As Mitchell walks, he always stops and take pictures. He loves to get the sunlight just right. Even when he is not walking at those times, he sets his alarm to make it there just before the sunrise and sunsets. "I just watch and wait to take the pictures and can usually time it just right," says Mitchell.
Even though Mitchell's forte is the bridge, he has been noted for taking other photos around town. For instance, the new promenade, the downtown and River Road. He uses his iPhone 6 for all his photos and edits them on Instagram. That's where he made up the name Rvbridgeman, for his Instagram account and then it just stuck. Some people even thought for a while that he worked on the bridge.
Taking photos of the bridge is not the only occupation he has. Mitchell works at the California Resources Corporation. He has been in the oil fields since 1981, two weeks out of high school. He is also a Father to 3 children; Nathaniel 25, Natasha 21 and Noah 16. He is an avid San Francisco Giants fan. So much a fan, that he even named his dog Hunter Pence. Like most people, he also does enjoy his favorite food, pizza and bacon.
If you are interested in Mitchell's photos they are available at Fool Crow and Windy River Company. Both of these businesses are located 33 at Front St. Rio Vista. Or his web store is Rvbridgeman.myshopify.com and also you can follow him on Instagram as Rvbridgeman or Facebook at the Rvbridgeman FB page.
"I might be a little crazy, simply it's a happy, curious sort of insane. I'm just having fun in my life. Every day is a new day. Glad I live in Rio Vista and I want to thank everyone for the nice comments and nice chats. When I'm out and about, in my favorite little town. My favorite saying is "peace baby," states Mitchell.
Thank you Greg Mitchell, for making Rio Vista such a special place for all. Peace baby, back at ya.
---
"Celebrity" Bartending at Foster's
1/13/2016  By Bonnie Selph
Foster's Bighorn is bringing back a popular Rio Vista event – Celebrity Bartending. Friday, January 22 starting at 7 pm, "Celebrities", teachers from DH White School, will guest bartend to raise money for new playground equipment at the school.
"Celebrity Bartending was always a popular night back when Jim (Baumann) did it at the Point. We wanted to resurrect the tradition and bring people together while raising money for a good cause," states Howard Lamothe, owner of Foster's. Teachers will take shifts working throughout the night starting at 7 pm. There will also be a 50/50 raffle with tickets costing $5 each or 5 for $20. The winner will be announced at midnight (you need not be present to win).
"I worked at the celebrity bartending years ago. It's a great opportunity to hang out with people from the community and help out the school at the same time", says Jenny Emigh, who will be bartending on January 22.
Some of DH White's playground equipment is worn out and needs replacing. The hope is to remove the old pieces and replace them with an additional structure that focuses on upper body strength.
"I've never bartended before, but it seems like it will be a lot of fun!" says Marcy Rossi, teacher at DH White. Lamothe would like Celebrity Bartending to become a regular event at Foster's, taking place several more times throughout the spring.
---
2016 Brings Change: Now Rio Vista Food Pantry
1/13/2016
Rio Vista Community Services is now Rio Vista Food Pantry. We are changing our name, but not our mission. Rio Vista Community Services has been undergoing a few adjustments in the last few months. To more reflect our emphasis on providing food services to low-income families and disabled seniors, we are changing our name to Rio Vista Food Pantry. The name Rio Vista Food Pantry gives an immediate recognition to the services we provide.
Rio Vista Food Pantry is also experiencing some financial challenges. Over the past couple of years, many of the grant programs for which we were eligible no longer exist or eligibility requirements have changed making us ineligible. We are struggling with fewer and fewer dollars and an increasingly greater number of people in need. Every Sunday, the line of people waiting for food stretches a little longer. These continuing tough economic times have hit everyone severely. We are reaching out to you for help.
A Chamber of Commerce mixer will be held at Rio Vista Food Pantry (1105-A Airport Rd.) at 5:30pm on Wednesday, Jan. 20th. This mixer will kick off our campaign of "Gift From The Heart." We will be giving out hearts with donor names for those who make a cash contribution to the Rio Vista Food Pantry. The hearts will be displayed in many merchant windows on Main St. through Valentine's Day.
Have you been moved by a gesture of kindness? Were you the recipient of an unexpected gift at a time you needed it most? Are you wondering how you can pay it forward? We hope you will find it in your heart to make a donation to help us. No amount is too small! Our food distribution service is run entirely by volunteers. We distribute approximately 125 bags of groceries each Sunday to low-income individuals and families and also deliver food to home-bound seniors two time per month. RVFP is a 501 c 3 non-profit agency and if you would like to make a donation, please send your check to:
Rio Vista Food Pantry
1105-A Airport Rd.
Rio Vista, CA 94571
707-374-5706
www.riovistafoodpantry.org
Thank you for your generosity. We look forward to following your hearts on Main St.
---
Restaurant Makeover on Hwy. 12
1/6/2016
Driving through the intersection at Hwy. 12, you can't miss the changes happening daily at the restaurant on the intersection. The restaurant at the entrance to Rio Vista has changed hands several times in the past 8 years and changed names from Henry's Coffee Shop, to Shelby's, to Café Rio. 
>> READ MORE
---
Save the Date: Solano County Home and Garden Show
1/6/2016
The Solano County Home and Garden Show is almost here! We've been hard at work getting ready for the show. The Solano County Home and Garden Show will take place February 19th thru the 21st, at the Dixon Fairgrounds.  >> READ MORE
---
Merry Christmas Rio Vista: Thank You for the Blessings
By Cindy Green
12/23/15
As the Holiday Season is in full bloom and Christmas is just a few days away, I wanted to take this time to count my many blessings.   I grew up in a small town, went to college is a small town  and moved after I was married to a small town.  However, never in my wildest dreams did I ever think that I would be serving the residents, business owners  and service clubs of this wonderful town.  The Beacon is the tool, but all of you, are the HEART of Rio Vista.  
>> READ MORE
---
City Manager Tim Chapa Leaving Rio Vista
12/23/15
Tim Chapa, our City Manager, has accepted an offer to be the City Manager of Sanger California. He will be leaving on January 20th for that position. Tim's home town is Sanger he was born and raised there, and also was elected to the school board in Sanger. Tim worked in Sanger from 2002 to 2009 as a deputy public works director and then development director. Tim came to Rio Vista from Arvin where he was City Manager. >> READ MORE
---