Rio Vista Beacon News
★ NEWS HEADLINES ★
---
Graybill Pest Solutions Celebrating 10 Years in Rio Vista and the Delta
Graybill Pest Solutions thrilled to be celebrating its 10th year in business this month, servicing Rio Vista and the River Delta area. Stephen Graybill is the owner/operator of the business. He has been doing pest management for 22 years. After being an employee for many years and running routes from Stockton to Reno and everywhere in between. He knew that it was time to open his own company and offer personalized service to a core community. Something he was never able to do while working for other companies. In 2005 he chose Rio Vista because of his strong family ties to this community. Graybill grew up sharing time between Rio Vista and Galt and has always considered Rio Vista "home". "It's a great feeling to run into your customers while out enjoying all that Rio Vista has to offer," he says.
Graybill Pest Solutions specializes in their customers. A huge part of their job is about listening to what needs each customer has and tailoring that service to meet those needs. The Delta as a whole brings in lots of spiders and webs while Rio Vista and Trilogy are plagued with ants.
Last year they received a call asking if they could come out and identify why a bird was not leaving the roof. When they got to the house and realized that the bird was actually stuck in some adhesive that another company had left behind. The customer and Graybill were both determined to do their best to rescue and release the bird, so several hours later, and the naming of their bird-friend, Gertie was freed from the roof, but covered in a tar-like coating. He took her home with him and thanks to the wonders of Dawn dish soap and determination, Gertie was ready to be released the next day. The customer and I still refer to Gertie and are pretty sure we see her flying around Trilogy.
The celebration of Graybill Pest Solutions 10th Anniversary will bring some opportunities to get the customers directly involved in the success of their company through promotions and referral programs. They hope to see continued growth and hire additional employees. Giving back to the community through charitable contributions and volunteer hours will continue to be a top priority.
They are proud to live and work in Rio Vista for 10 years and counting!
---
The Elegant Bean in Rio Vista
 June 10, 2015
Meet Chip Morris, a Slow Food Champion of the Delta. Together with his wife/business partner Bobbie Campbell Morris, he has brought to Rio Vista the world of beans, in hundreds of colors, patterns, shapes and sizes, and with as many textures, tastes, uses and origins. The selection offered by Elegant Beans is due in part to the Ark of Taste project of the worldwide Slow Food movement. This project seeks to rediscover and catalogue forgotten flavors by documenting excellent food products that are in danger of disappearing. Since the international initiative began in 1996, more than 800 products from over 50 countries have been added to the International Ark of Taste. A number of beans from this list have been put into commercial production by the Morris's, and a nice selection of their products is carried by none other than our Lira's Supermarket.
First, consider that they are an ancient source of protein that is produced with far less water and other resources than meat products. Like all legumes, beans enrich the soil with added nitrogen wherever they are grown. Beans are truly an elegant solution to problem of feeding the world's growing population on shrinking resources. Still not interested? Wait until you try the three salads that will be served at this year's Slow Food Festival. Prepared by the staff at Lira's from beans provided by Elegant Beans, the Five Bean Salad and the others prepared from Cowboy Beans and Runner Cannellini beans will show you how delicious, versatile and interesting this food can be.
The story of Elegant Beans and Beyond, is one of deep family roots and a tradition of living off of the products of the land. Chip is part of the Mohr Fry Ranch family that is in its fifth generation in the Lodi area. With its commitment to sustainability and good stewardship of land and community, this enterprise illustrates that the appreciation of "good, clean, and fair food" did not begin with the Slow Food movement, but was organically present in our place from earliest times. Elegant Beans and Beyond has also shown how a small family operation can remain economically viable through constant testing, experimentation and creativity. With careful attention to the specific growing conditions and handling demanded by the many varieties of beans produced, Elegant Beans and Beyond is preserving and providing us with fabulous foods developed through the centuries in all parts of the world. They are truly a local treasure and richly deserve Slow Food's "Snail of Approval. In a reprise of last year, Chip Morris will be at the 4th Annual Slow Food Festival in Rio Vista on June 20. This event will take place at the waterfront on Main Street from 11 to 4 and will feature wonderfully prepared, locally sourced appetizers, a full meal, wine and beer, live music, vendors and a full program of presentations on topics related to Slow Food. See slowfoodriovista.org  for information and tickets.  Tickets are also available at Pets 4 All, Books RioV, and Galleria Bra Room.
---
Congratulations to Sergeant McDowell and Sergeant Milowe
June 10, 2015
On Tuesday, June 2, 2015, the Rio Vista Police Department had two officers advance to Sergeants. The ceremony was held at 6pm at the Rio Vista City Hall, during the City Council Meeting.Congratulations to Sergeant Lisa McDowell and Sergeant Todd Milowe. Sergeant Milowe, grew up on the East Coast and then attended college in Berkeley. That is where he met his wife Helen and this year they are celebrating 27 years of marriage. The have two adult children. Milowe has worked in the private sector, Berkeley Police Department, San Francisco Community College District, and San Anselmo Police Department. Some of the titles that he has held are; Field Training Officer, Community Oriented Training Officer and a Taser, Instructor. Congratulations to Sergeant Milowe and thank you for your diligent work to the City of Rio Vista. Sergeant McDowell, started her career with the Rio Vista Police Department in 2006 and will be celebrating her 9 years with the city. She also has received her Associates Degree in Criminal Justice from Napa Valley College with a 4.0 grade point average. She is working towards her BS Degree at Community Coast College. Sergeant McDowell has over 1400 hours post certified training and is a few months short of receiving her Advanced Post Certificate. She is also a Field Training Officer and President of the Rio Vista Youth Services Organization that is raising funds for a youth skate board park that has raised over $20,000. Congratulations to Sergeant McDowell and thank you for your diligent work to the City of Rio Vista.
---
A Touch of Class Comes to Rio Vista
Are you tired of the décor in your living room, bedroom or kitchen? Are you looking for a quick, easy and cost-efficient way to freshen up your home? If you want to enjoy the beauty of your home without going to the huge effort of redecorating or remodeling, then the time has come to discover Delta Drapery Designs.  <READ MORE>
---
West Nile Virus Activity Begins in Solano County
June 3, 2015
SOLANO COUNTY – Solano County Mosquito Abatement District (SCMAD) and Solano County Department of Health and Social Services (SCDHSS) officials confirmed on Thursday that one American Crow found in the City of Vallejo tested positive for West Nile virus (WNV).  <READ MORE>
---
Pedersen Insurance Services Becomes a Full Service Insurance Agency
Help you through your financial and insurance maze!
Pedersen Insurance Services has been in business in Rio Vista since 2005 offering just Financial service products, individual benefits, group benefits and Medicare Supplements.    <READ MORE>
---
Church Reaches Out
April 23, 2015
If you haven't been to Re:church in Rio Vista before, you may not realize the local and global reach it has today. Recently, Re:church partnered with a church in Puerto Rico to continue starting new churches, serving the poor, and partnering with local organizations to care for families with kids who are in need. 
<READ MORE>
---
Second Annual Rio Vista Certified Farmers' Market Grand Opening

April 15th, 2015
The second annual Rio Vista Certified Farmers' Market will celebrate its' Grand Opening on April 25th with live music provided by Indie Folk Artist extraordinaire, Aprylle Gilbert. 
<READ MORE>
---
Rio Vista to Crown King of the Kitchen on April 25
April 15th, 2015
On April 25 Rio Vista will crown a new king at the First Annual King of the Kitchen competition. Over 25 aspiring chefs have already signed on to compete at the event which will be held at Veterans Hall (610 Saint Francis Street) from 4-7 p.m.  <READ MORE>
---
70 Year Old Tree Down; Log Lost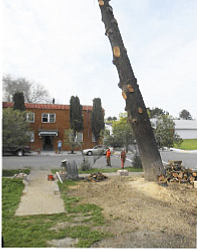 B-O-O-M! The trunk of the 70 year old cedar tree at the corner of South Second and California in Rio Vista hit the ground. Nobody in the small crowd that had gathered yelled T
–
I-M-B-E-R. The tree went down exactly where David Perkins and Chris Mazzera, who was trained by Perkins, said it would. 
<READ MORE>
---
It's official, the World Loves Janey!
JANEY MAKES A PLAY, the documentary by director and filmmaker Jared Callahan featuring Janey Callahan Chin, the 90 year old playwright and director from Rio Vista, had its World Premiere at the Atlanta Film Festival last weekend and was described by one audience member as "incredible – inspiring, poignant, funny, and just so genuine".    <READ MORE>
---
New Dentist in Rio Vista
Dr. Hadi Soltani, DDS is very happy to be practicing dentistry in Rio Vista. Soltani has taken over the practice from Dr. Mel Pearson, who has retired from his practice of Dentistry of the Delta. 
<READ MORE>
---
April Fool's
Due to the fact that the Beacon, publishes on April 1st. We thought you would enjoy some of the great April Fool's Day headlines over the years, that made the newspaper or radio.   <READ MORE>

---
An In-Depth Look at a Rio Vistan
March 25, 2015
By Linda Orrante
Whoever Heard of Someone Named Herky?
Herky Ostlund's real name, Hermelle, is a French name that her uncle brought back from France. According to the internet, Hermelle is related to Hermes, a messenger of the gods in Greek mythology. The name Hermelle means harmony, compassion, service, and nurturing. If you know Herky Ostlund, you are not the least bit surprised at how well her given name fits.  <READ MORE>
---
Delta Community Meeting Regarding Crime
With County Supervisor Don Nottoli
Delta Community Meeting regarding crime With County Supervisor Don Nottoli Event organizer, Andy Krotik announced due to recent spikes in crime on the Delta, a Community meeting will be held on March 25th, at 6:30 PM at Oxbow Marina Clubhouse Said Andy Krotik, "My property has been robbed, several of my neighbors, and many others in the Terminous Road, and Delta loop area." 
<READ MORE>
---
Third Annual McCormack Ranch Sheepdog Trials
The third McCormack Sheep & Grain Sheepdog Trials will take place at the McCormack Ranch outside of Rio Vista on Friday, March 27; Saturday, March 28; and Sunday March 29. Tickets are required to attend the event. Attendance will be limited to 200 people per day.  <READ MORE>
---
Soroptomist Awards
National Organization for Women's Harriet Tubman Award, along with countless other awards in her lifetime. <READ MORE>
---
John Lamb Top Dog in Life
John and Faye Lamb have been residents of Trilogy for over five years. Both of them are very active physically, even though they suffer from some major league health issues. Faye's issue is that she has had MS for over 27 years and John has nerve damage and pain from a congenital defect which necessitates him to soak in a bath tub for 5 hours a day.  <READ MORE>
---
Mobile Medical Van Comes to Rio Vista Every Tuesday
March 4, 2015
By Linda Jensen
Solano County Family Health Services brings their Mobile Medical Van at 628 Montezuma Street, Tuesdays from 9am to 2:30pm. The big green van will be parked in the Rio Vista CARE parking lot and walk-in patients are welcome.    <READ MORE>
---
Three Generations Living in Rio Vista and Loving it
March 4, 2015
Mike Wertin and his wife Judy are what you would call the beginning of three generations living in Rio Vista. They are what you call the "new generations," where the Grandparents move into town to a wonderful retirement community because their children and grandchildren already live here.   <READ MORE>
---