Front Page
★ NEWS HEADLINES ★
---
American Pickers to Film in California
2/10/16
Mike Wolfe, Frank Fritz, and their team are excited to return to California! They plan to film episodes of the hit series AMERICAN PICKERS throughout California with filming scheduled for March 2016.
AMERICAN PICKERS is a documentary series that explores the fascinating world of antique 'picking' on History. The hit show follows Mike Wolfe and Frank Fritz, two of the most skilled pickers in the business, as they hunt for America's most valuable antiques–from motorcycles, classic cars and bicycles, to one-of-a-kind vintage memorabilia.
As they hit the back roads from coast to coast, Mike and Frank continue their mission to recycle America by rescuing forgotten relics and giving them a new lease on life, while learning a thing or two about American history along the way.
AMERICAN PICKERS is looking for leads and would love to explore your buried treasure. They are on the hunt for characters with interesting and unique items. Some of what they look for: vintage bicycles, toys, unusual radios, movie memorabilia, advertising, military items, folk art, pre-50's western gear, early firefighting equipment, vintage musical equipment, automotive items, and clothing. They are always excited to find things they've never seen before and learn the story behind it.
If you or someone you know has a large, private collection send us your: name, phone number, location and description of the collection with photos to:  americanpickers@cineflix.com or call 855-old-rust.
The Beacon notes: AMERICAN PICKERS will potentially come to the Delta area if there are enough large collections here.
---
Love is for Those who Care
2/10/2016
Care to make a difference … a difference in the lives of those who are dealing with MS – because they have it or love someone who does.
Two of those people are ladies from Rio Vista: Victoria Muñoz and Shelley Thomas, who both have Multiple Sclerosis (MS). As co-leaders of Team Victorians, they will be participating in the MS Walk in Suisun City on Saturday, April 23rd with a growing team of people who care … and want to raise awareness and support to help find a cure for MS.
Shelley Thomas, and her husband Larry, are long-time residents of Rio Vista. Shelley had her first episode of MS symptoms where she was dizzy and unable to swallow in 2006. It took several months before her neurologists at U.C. Davis gave her the diagnosis of remitting/relapsing MS and put her into a 3-year study of the effects of combining Avonex and Copaxone (which actually lasted seven years.) In 2013, she was taken off the injections of Avonex/Copaxone and changed to a program of once-a-month infusions of Tysabri. She is happy to report she no longer suffers with the two days of flu-like symptoms from her weekly injections.
Victoria Muñoz, "Vickie", moved from Walnut Creek into her new home at Trilogy Rio Vista in June, 2015. Her story with MS started back in 1995 when a ski accident left her with a knee injury and five years of physical therapy before her doctors realized the injury was masking MS symptoms of instability and weakness in her legs. In 2000, she was finally diagnosed with remitting/relapsing MS and placed on Avonex. After more than a year of serious side effects from the drug, she transferred to U.C. San Francisco. In reviewing her MRIs and case history, her neurologist noted her first symptoms in 1971 and changed her diagnosis to Primary Progressive MS. She was taken off all drugs and advised at that time that the drugs available would not help her. At U.C.S.F., Victoria underwent a two-year study of the effects of Rituximab on primary progressive MS from 2004-2005. The results of the study were inconclusive and she was later told that she had only received a placebo during the study.
In December, 2011, she transferred to U.C. Stanford where her neurologist corrected her diagnosis to a mild case of remitting/relapsing MS. She was put on Aubagio and Ampyra to reduce her symptoms. In 2013, she was one of the first "human guinea pigs" in Stanford's clinical trial where she was hospitalized for one week and infused with IGM22. She had no negative side effects and felt enormous improvement but the Study is still undergoing two more phases and will not be completed for several years. However, Victoria is optimistic that this drug could be one step closer to the end of MS (in a "perfect world") In the meantime, she does her best to work out for 30 minutes every day at the Trilogy gym and play pool as often as possible to keep her body in shape and moving.
Vickie had been diagnosed with MS for six years before she discovered the MS Walk at Heather Farm in Walnut Creek and started her first team in 2006. That year there were only eight walkers but her team has grown over the years to 125 in 2014. Although she moved to Rio Vista, her team members in Walnut Creek asked her to come back for the MS Walk at Heather Farm in 2015. For the fifth year in a row, Team Victorians was still the largest team in the Walnut Creek MS Walk with 60 participants.
When she moved to Trilogy, Vickie met Shelley at her new church, Re:Church in Rio Vista. They both volunteer at Re:Church's ministry at the Community Dinner in Isleton on Tuesday nights. They discovered they both have MS and Vickie also participated in Shelley's MS Walk in 2015 which was her second time leading "Team Shelley."  Shelley's first team in 2014 had 29 members participating in the Suisun MS Walk.
On April 23rd, this will be their first team together as Team Victorians at the Waterfront in Suisun City (close to Fairfield off the 80 Freeway and Highway 12 at the intersection of Main and Solano Streets downtown). The Walk features both 5K and one-mile routes so walkers can choose the distance they prefer. Both courses start and end at the same location where the walkers will receive a special keepsake as they cross the finish line.
The Victorians will be walking at Heather Farm in Walnut Creek on Sunday, April 17 and at the Suisun City MS Walk on Saturday, April 23d. So you have a choice to be with them on Sunday, April 17 at the Walnut Creek Walk or Saturday, April 23 in Suisun City … OR BOTH (like Vickie is
The Victorians anticipate a large turnout of supporters from Rio Vista's Ace Hardware, Lira's, Lucy's Café, Re:Church, Rio Vista High School, Shea Homes, Trilogy Rio Vista and the Solano Christian Academy in Fairfield. This year the Victorians will have a new team shirt to wear: a grey and black baseball shirt with the team's imprint on the back – a crossword that incorporates the names of the various organizations supporting the team. Any walker who would like to wear the team's t-shirt on April 23rd should contact Victoria to place an order before the end of February. Just call her at (925) 330-1838 to order your shirts. To be part of the team at Suisun City, register online at: http://main.nationalmssociety.org/goto/Victorians_Suisun
Even if you don't plan to walk at all, they still want you on their team and hope you'll sign up as one of the "virtual walkers". Either way, be sure to come out to cheer for the walkers as they head out at 9:00 am. The team will be taking its group picture at 8:30 so whether you're walking or cheering, be sure to register online and arrive at the Waterfront in Suisun City in time for the photo!
No matter what level of involvement you choose, be sure to join us and share the love.
Every MS patient has a totally unique story of their disease: its symptoms, length of time between episodes and their duration, as well as the effects MS has had on their families.
In case you're one of the lucky ones who know NOTHING about MS:
Multiple sclerosis is an unpredictable, often disabling, autoimmune disease where the body's T-Cells go "haywire" and stop protecting the body from foreign antibodies and start attacking the central nervous system. As the T-Cells damage the myelin sheath that covers the nerves in the brain and spinal cord, the flow of information within the brain, and between the brain and body is disrupted, leading to symptoms which can include, but are not limited to, chronic fatigue, instability, incontinence, falling, numbness and tingling, temporary blindness, paralysis and sometimes worse. The progress, severity and specific symptoms of MS in any one person can't be predicted.
---
Auspicious start for the Region
By Douglas Hsia
2/3/2016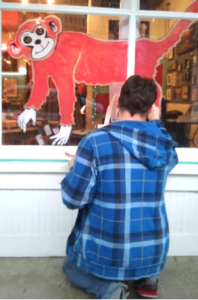 In view of all the new happenings in the region, Locke is going to add to the momentum by hosting Chinese New Year celebration this February 13, 14, 15, the long weekend that includes President's Day. Games and contests will be held for visitors to participate. According to the Honorary Chairman of the organization committee, Stuart Walthall, we have designed 4 groups of fun and games.
Chinese New Year Decoration at participating shops and residence. Since there are many artists and multi culture residents in our community, we can't wait to see a whole new creativity of Chinese New Year decoration concept. Visitors will be given guidance to walk through participants' shops and residence.
Game of matching 2 line poem (couplets) in both Chinese and English, so all visitors can participate and get to achieve understanding the culture of how Chinese integrate literacy with auspicious concept.
All cultures have their unique dishes for their festivals. Chinese definitely are not left out. There will be plenty of traditional Chinese dishes during their new year, there will be enjoyable demonstration of this genre.
Reenactment gambling house, many people may be aware that gambling house was not just for gambling. It was a place for Chinese to come and socialize, another form of gathering around the watering hole.
To the Chinese, new year always symbolizes a new chapter of hope. That is why everything is auspicious oriented, what happens during the first 15 days of the new year, the rest of the year will follow. For everyone to know, the first day of the new year is the day of new moon, the official finishing line of the new year festival is the 15th day of the lunar calendar which is always the full moon. Not by design, Locke is always considered the middle of the Delta. 16 miles north of Rio Vista by Highway 160 and 15.5 miles south of Clarksburg also by Highway 160.
---
Solano County Fair Association Presents 14th Annual Youth Ag Day
Volunteers, donations sought to bring this unique experience to local third-graders
1/27/2016
Solano County, CA – Thousands of excited third-graders are expected to descend on the Solano County Fairgrounds on Tuesday, March 15 for the 14th annual Youth Ag Day.
The Solano County Fair Association hosts this free interactive hands-on event as part of its ongoing efforts to educate Solano County's youth about the county's rich agricultural heritage and the crucial role agriculture plays in our daily lives.
"Youth Ag Day allows us to engage these kids in a fun and educational atmosphere so they have a better connection with our local agriculture and where their food comes from," said Solano County Fairgrounds General Manager, Stephen Pierce.
The 14th annual Youth Ag Day on Tuesday, March 15 from 9 a.m. to 1 p.m. is expected to bring a record number of more than 3,000 third-grade students from across Solano County, along with their teachers and chaperones, to the Fairgrounds for this one-of-a-kind educational field trip. The fun and exciting format allows students to gain first-hand experiences through a diverse range of agricultural activities and exhibits.
"Youth Ag Day is truly a collaborative community effort of presenters, volunteers, sponsors and donors," Pierce said. "We're very fortunate to live in a place where people are so generous with their time, money and expertise and have an interest in sharing it for the enrichment of our students."
Youth Ag Day is presented by the Solano County Fair Association in conjunction with the Solano County Department of Agriculture and Solano County 4-H and Future Farmers of America (FFA), along with many other generous supporters.
The popularity of this event has continued to grow each year thanks to the generous financial support of local businesses and individuals. Many third-grade classes would not be able to attend without the financial assistance from donors to cover the increasing cost of transportation.
Youth Ag Day is seeking sponsors of any level to help allow this priceless opportunity to continue and grow for the third-graders in our county. Bus sponsorships in the amount of $500 are especially important to the event's success in order to serve the transportation needs of classrooms from throughout the county.
Volunteer opportunities exist to greet arriving classes, assist at registration, direct classroom groups through the learning stations, coordinate group flow within the exhibit buildings, and assist the presenting organizations. Volunteers are integral to the success of Youth Ag Day and are encouraged to sign up early to be a part of this rewarding event.
School registration, presenter, sponsor and volunteer information are all available on the Youth Ag Day page of the Fair's web site SCFair.com. For additional information, email AgDay@SCFair.org or call 707-551-2002.
---
Greg Mitchell is the Rvbridgeman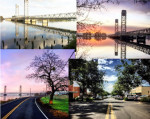 Some of you might know him because he has lived in Rio Vista most of his life. Others know him by seeing him walking all over town. But most of you know him by the beautiful photos that he has taken of the Rio Vista Bridge (Helen Madere Memorial Bridge), Rio Vista and the Delta. His name is Greg Mitchell (AKA) Rvbridgeman. For those of you, that happen to be lucky enough to have seen his work on social media, mostly Facebook. You know that each and every one of his photos brings a smile to your face. But what is behind the man and his bridge?
Mitchell set out walking every day for health reasons back in 2010. This is about the time, when he started taking photographs of the bridge and began observing the wild beauty of it. To date he has taken about 6,000 photos. All at different times of the daylight. He gets obsessed trying to find a better picture every time he visits the bridge. When Mitchell started walking he was averaging about, 3200 miles a year for a few years. But now has slowed down a bit, mostly walking the bridge, sometimes twice a day. As Mitchell walks, he always stops and take pictures. He loves to get the sunlight just right. Even when he is not walking at those times, he sets his alarm to make it there just before the sunrise and sunsets. "I just watch and wait to take the pictures and can usually time it just right," says Mitchell.
Even though Mitchell's forte is the bridge, he has been noted for taking other photos around town. For instance, the new promenade, the downtown and River Road. He uses his iPhone 6 for all his photos and edits them on Instagram. That's where he made up the name Rvbridgeman, for his Instagram account and then it just stuck. Some people even thought for a while that he worked on the bridge.
Taking photos of the bridge is not the only occupation he has. Mitchell works at the California Resources Corporation. He has been in the oil fields since 1981, two weeks out of high school. He is also a Father to 3 children; Nathaniel 25, Natasha 21 and Noah 16. He is an avid San Francisco Giants fan. So much a fan, that he even named his dog Hunter Pence. Like most people, he also does enjoy his favorite food, pizza and bacon.
If you are interested in Mitchell's photos they are available at Fool Crow and Windy River Company. Both of these businesses are located 33 at Front St. Rio Vista. Or his web store is Rvbridgeman.myshopify.com and also you can follow him on Instagram as Rvbridgeman or Facebook at the Rvbridgeman FB page.
"I might be a little crazy, simply it's a happy, curious sort of insane. I'm just having fun in my life. Every day is a new day. Glad I live in Rio Vista and I want to thank everyone for the nice comments and nice chats. When I'm out and about, in my favorite little town. My favorite saying is "peace baby," states Mitchell.
Thank you Greg Mitchell, for making Rio Vista such a special place for all. Peace baby, back at ya.
---
"Celebrity" Bartending at Foster's
1/13/2016  By Bonnie Selph
Foster's Bighorn is bringing back a popular Rio Vista event – Celebrity Bartending. Friday, January 22 starting at 7 pm, "Celebrities", teachers from DH White School, will guest bartend to raise money for new playground equipment at the school.
"Celebrity Bartending was always a popular night back when Jim (Baumann) did it at the Point. We wanted to resurrect the tradition and bring people together while raising money for a good cause," states Howard Lamothe, owner of Foster's. Teachers will take shifts working throughout the night starting at 7 pm. There will also be a 50/50 raffle with tickets costing $5 each or 5 for $20. The winner will be announced at midnight (you need not be present to win).
"I worked at the celebrity bartending years ago. It's a great opportunity to hang out with people from the community and help out the school at the same time", says Jenny Emigh, who will be bartending on January 22.
Some of DH White's playground equipment is worn out and needs replacing. The hope is to remove the old pieces and replace them with an additional structure that focuses on upper body strength.
"I've never bartended before, but it seems like it will be a lot of fun!" says Marcy Rossi, teacher at DH White. Lamothe would like Celebrity Bartending to become a regular event at Foster's, taking place several more times throughout the spring.
---
2016 Brings Change: Now Rio Vista Food Pantry
1/13/2016
Rio Vista Community Services is now Rio Vista Food Pantry. We are changing our name, but not our mission. Rio Vista Community Services has been undergoing a few adjustments in the last few months. To more reflect our emphasis on providing food services to low-income families and disabled seniors, we are changing our name to Rio Vista Food Pantry. The name Rio Vista Food Pantry gives an immediate recognition to the services we provide.
Rio Vista Food Pantry is also experiencing some financial challenges. Over the past couple of years, many of the grant programs for which we were eligible no longer exist or eligibility requirements have changed making us ineligible. We are struggling with fewer and fewer dollars and an increasingly greater number of people in need. Every Sunday, the line of people waiting for food stretches a little longer. These continuing tough economic times have hit everyone severely. We are reaching out to you for help.
A Chamber of Commerce mixer will be held at Rio Vista Food Pantry (1105-A Airport Rd.) at 5:30pm on Wednesday, Jan. 20th. This mixer will kick off our campaign of "Gift From The Heart." We will be giving out hearts with donor names for those who make a cash contribution to the Rio Vista Food Pantry. The hearts will be displayed in many merchant windows on Main St. through Valentine's Day.
Have you been moved by a gesture of kindness? Were you the recipient of an unexpected gift at a time you needed it most? Are you wondering how you can pay it forward? We hope you will find it in your heart to make a donation to help us. No amount is too small! Our food distribution service is run entirely by volunteers. We distribute approximately 125 bags of groceries each Sunday to low-income individuals and families and also deliver food to home-bound seniors two time per month. RVFP is a 501 c 3 non-profit agency and if you would like to make a donation, please send your check to:
Rio Vista Food Pantry
1105-A Airport Rd.
Rio Vista, CA 94571
707-374-5706
www.riovistafoodpantry.org
Thank you for your generosity. We look forward to following your hearts on Main St.
---
Restaurant Makeover on Hwy. 12
1/6/2016
Driving through the intersection at Hwy. 12, you can't miss the changes happening daily at the restaurant on the intersection. The restaurant at the entrance to Rio Vista has changed hands several times in the past 8 years and changed names from Henry's Coffee Shop, to Shelby's, to Café Rio. 
>> READ MORE
---
Save the Date: Solano County Home and Garden Show
1/6/2016
The Solano County Home and Garden Show is almost here! We've been hard at work getting ready for the show. The Solano County Home and Garden Show will take place February 19th thru the 21st, at the Dixon Fairgrounds.  >> READ MORE
---
Merry Christmas Rio Vista: Thank You for the Blessings
By Cindy Green
12/23/15
As the Holiday Season is in full bloom and Christmas is just a few days away, I wanted to take this time to count my many blessings.   I grew up in a small town, went to college is a small town  and moved after I was married to a small town.  However, never in my wildest dreams did I ever think that I would be serving the residents, business owners  and service clubs of this wonderful town.  The Beacon is the tool, but all of you, are the HEART of Rio Vista.  
>> READ MORE
---
City Manager Tim Chapa Leaving Rio Vista
12/23/15
Tim Chapa, our City Manager, has accepted an offer to be the City Manager of Sanger California. He will be leaving on January 20th for that position. Tim's home town is Sanger he was born and raised there, and also was elected to the school board in Sanger. Tim worked in Sanger from 2002 to 2009 as a deputy public works director and then development director. Tim came to Rio Vista from Arvin where he was City Manager. >> READ MORE
---